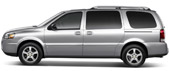 Timket & Omo Valley (Jan.18-28)


Join our Timket Tour which is a very colorful & greatest celebration. All the tabots [Read More]

Travel Facts


Visa & Immigration


All visitors, except from Kenyan and Djiboutian nationals, are required an entry visa to visit Ethiopia. The Ethiopian immigration office issues visa upon arrival for the following countries:-
Argentina, Austria, Australia, Belgium, Brazil, Canada, China, Denmark, France, Germany, Finland, Greece, Ireland, Israel, Italy, Japan, Korea, Luxemburg, Mexico, Netherlands, Norway, Poland, Portugal, Russia, South Africa, Sweden, Switzerland, Taiwan, UK, and USA.

Health Requirements
Visitors are required to have a valid health certificate for yellow fever prior to entry. If a visitor transited or visited cholera infected area within six days prior to arrival in Ethiopia,a vaccination against cholera is required

Currency Exchange
Official Currency: 1 birr=100 cents
Bank Hours:-Open from 0830 in the morning to 1600 in the afternoon on weekdays and half day on Saturdays. However, Banks at Addis Ababa Hilton and Sheraton Hotels are open daily including holidays from 0600-2300 hours. You can also cash visa & MasterCard at the banks or use the ATM machine inside the hotels.

Travelers' cheque is best taken in US Dollars or Pounds Sterling and cash is best taken in US Dollars or Euro.
Some credit cards such as, Visa, MasterCard, American Express and Dinners Club are accepted at major hotels.


Time & Electricity
Ethiopia is three hours ahead of GMT (+ 3 GMT)
Its electric supply is 220 volts,50 cycles AC.
Facts About Ethiopia
Ethiopia is found between 3 degree and 16 degree north latitude, and 33 degree and 48 degree east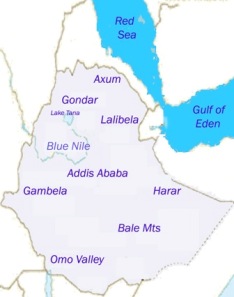 longitude. It is bordering Sudan to the west and North West, Eritrea to the north and north east, Djibouti to the east, Somalia to the east and south east and Kenya to the south. It has an area of 1,235,000 square kilometers. Out of which 65% is arable land and about 15% is presently cultivated. Topography
Ethiopia has a variety of distinct geographical zones ranging from one of the lowest places in the world, the Danakil depression, lies in the harsh salt flats at 116 meters below sea level, to a 4620 meter peak, Ras Dashen, which is the highest in the country, in the Simien Mountains. The most distinctive feature is the vast central plateau with an average elevation of between 1800m and 2400m with many mountain peaks. The mountains of Ethiopia are the sources of major rivers; the most famous is the Blue Nile, which flows down from the Garden of Eden in the paradise. Generally, the topography of the country is incredibly configured with majestic mountains, spectacular gorges and rivers, some of which are chosen for rafting such as, the Omo River. Climate
Though Ethiopia is found with in the tropics, its Climate reflects the topography that gives her a diverse plantation, from desert bushes to Afro-alpines, and wild life with many endemism. The country receives heavy rainfall from June to August. Almost every part of the country receives precipitation during this time. The dry season for most part of the country is winter. April and May are the hottest months of the year. Temperature varies accordingly to each part of the country. Generally, the lowlands are hot and warm but the highlands are cold with temperate climate. There is, however, sunrise all year round (Thirteen Months of Sun Shine). Economy
The country's economy is based in Agriculture. About 85% of the population earns their living from agriculture, mainly as subsistence farmers. The country exports coffee, which brings about 47% of the country's foreign earnings. Oil seeds, pulses, flowers, vegetables, and hides and skins are other exports. Chat plant, mainly exported to Djibouti and Somalia, is becoming the second export earner. The country registered economical increase during the last four years. People and Culture
There is no doubt that humans have inhabited Ethiopia since the dawn of recorded history, as indicated in early cave drawings. Ethiopia, the second most populous nation in Africa next to Nigeria, has a population of 75 million with high dependency ratio. Over 50% of the population is under 20years of age and 85% of the people is still living in the country side. Life expectancy is currently 49 years. Ethiopia has a diversified culture of music, dance, art & literature, architecture, painting, and poetry. Currently, there are about 83 ethnic groups inhabiting the country, each with its own language and sub culture. The main three languages in the country are Amharic, which is the official Language of the country, Oromigna and Tigringa. History
Ethiopia is generally considered Africa's oldest continuously identifiable nation. In early ages, Ethiopia bordered Egypt, encompassing parts of what is now Sudan, and Yemen crossing the Red Sea. Djibouti and parts of Somalia share much of their ancient, medieval and modern histories with the country. Ethiopia is the only African country that has escaped colonialism. The country became landlocked after the independence of Eritrea in 1993. Above all, Ethiopia is known for its exceptional historical attractions including centuries-old rock hewn churches and castles, several famous archaeological findings that give the country the name "Cradle of Man kind". Having complex traditions, ancient history and diversification, Ethiopia is a fascinating destination for Trekkers, culture lovers, nature lovers, bird watchers, historians and others.