Testimonials


...I was really taken to the best possible in all aspects of what a birding should be and that means ...thrilling!!!
Lieven Thyrion, General Manager
Les Ballets C. de la B.
Ghent, Belgium [Read more]
Car Rental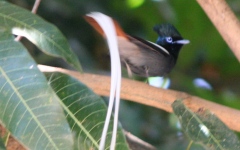 Bird Watching Tour (Feb. 1-18, 2013)


Join our Bird Watching Tour where you'll watch most of the endemic as well as the common colorful birds in the country.[Read more]
Bird Watching Tours in Ethiopia
Ethiopia's Rift Valley lakes support an amazing variety of bird species.

The country's geographical diversity has enabled her for the enjoyment of so diverse and so colorful birds. Ethiopia boasts 862 bird species, of which 17 are endemic, and 13 are semi-endemic. Whether in the high- land forests or plateau, near the lakes, or in the lowlands, Ethiopia is really a paradise for bird watchers.Though it is possible to have a birding tour through out the year, the best time is between October and March. Suggested Itinerary(9 Days)
This tour includes all important sites for bird watchers such as, the rift valley lakes region, Bale Mountains National Park, Awash National Park, Wondo Genet, and other places.
Day 1 Arrival in Addis Ababa and welcomed by our representative. O/n hotel
Day 2 Drive to Langano. En route, spot birds at Debre Zeit and Lake Zway. O/n hotel
Day 3 Birding at Lake Abyata and Lake Awassa. O/n hotel
Day 4 After visiting the fish market at Lake Awassa, birding at Wondogenet. O/n hotel
Day 5 Drive to Bale Mountains while birding en route. O/n hotel
Day 6 Birding near Sanetti Plateau. O/n hotel
Day 7 Drive to Sodere and birding in your hotel compound. O/n hotel
Day 8 Drive to Awash National Park and birding. O/n hotel
Day 9 Drive back to Addis Ababa and be transferred to the airport for your final departure.
Prices are From $1550USD/Person
Minimum No. of Visitors - 3 People
15 - 20 days bird watching tour is available upon request. Email!